Far West Stables
Lincoln CA
We have two sizes of stalls: 12 x 24 & 12 x 12. All with paddocks, some larger then others. Board includes shavings, and Muck Buster for the paddocks. Every stall has automatic waterers Stall horses can get Alfalfa or Bermuda Grass. Twice a day Daily 45min- 1hr turnout. Stalls cleaned 2x daily. Trailer parking 25/mo, trailer in $10 per horse. Covered and outdoor arena available, both just received new footing including rubber crumbs. Wash rack with hot water, washer and dryer available. 24/7 security. Every part of the property is covered with cameras. There's a gate with a keypad to gain access to the property.
Pasture Boarding
Pasture boarding: Horses get 1 flake 2x a day.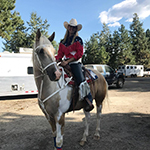 Katharine Rankin - Manager/Trainer
Katharine is the backbone of Far West. She does just about everything related to the barn. She is currently not offering riding lessons. She's also the owner of Kali, the 3rd of the black labs running around our property.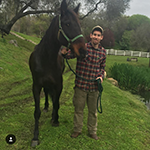 Tanner Scheurer - Owner/Operator
Tanner is the owner of Far West Stables along with his parents Erroll & Tracie. The two dogs you might see running around the property are his, their names are Titan & Ares. Tanner is an avid outdoorsman, when he's not working you'll find him out hunting or at the range.